Le Rocher de la Vierge Campsite, Comblain-La-Tour Belgium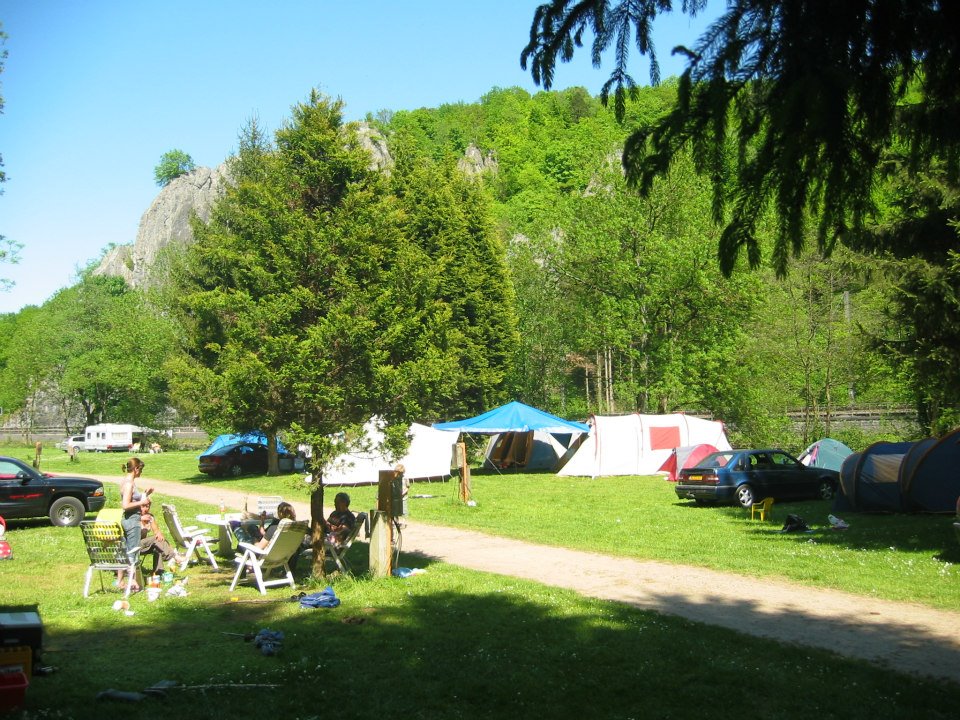 The campsite is located in the Belgian Ardennes in the province of Liege between Durbuy and Aywaille.
The Le rocher de la Vierge campsite is on the left-bank of the Ourthe on espaliered terraces. The area intended for passing tourists is located at the foot of the river.
This passing tourism area is separated from the residential area. The campsite is surrounded by forests and rocks. An ideal base for hiking and bicycling .
The residential area is not liable to flooding. Right from your arrival, the atmosphere is friendly and you will feel completely at home.
The camp site is located 15 minutes from Durbuy, 15 minutes from Aywaille, 40 minutes from Liège, 60 minutes from Namur, 75 min from Maastricht(NL), 90 min from Brussels, 120 min from Lille (FR),120 min from Aix la Chapelle (D) .The campsite is 15 mins from the E25 motorway (A26) and 40 min from the E42.
We are located along the RAVEL 5 and close to the GR 57 (hiking trail).
 The campsite has:
New for 2020

 Trampoline for kids
 Motorhome rental 8.85m long and 4m wide with air conditioning for 6 persons
 Motorhome rental, 7.80m long and 4m wide with air conditioning for 4 persons
 Rental of a Kota grill (bbq chalet which can accommodate 12 persons)
6 chalet tents for rent alongside the river
Rental of classic Motor Homes for 2 to 6 people
3 tee-pee type tents for rent
10 x 3-person tents for rent
4 motorhome pitches with 10-amp electrical connection
58 pitches with 10-amp electrical connection
160 residential pitches with 16-amp electrical connection, not liable to flooding
playground with sand tray
beach volleyball
Outside fitness area
Cafeteria with terrace
Wifi access in the cafeteria
Snack bar
Washing machine and dryer
A boules court and football pitch
Ping pong table
New for 2014: electric bike rental
Parking on your camping pitch
Fishing in the Ourthe is possible, through a permit from the Walloon region
We can welcome you in French and a little bit in Dutch